Communico
SECTOR:
INFORMATION TECHNOLOGY
Communico is a next generation library company fanatical about the user experience of both patrons and staff. Viarti has worked with them since 2006 providing creative solutions for their web cms, digital signage, room booking and events modules… plus lots more.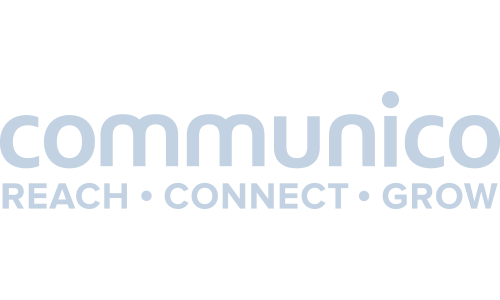 Vern
2020-03-20T12:21:50+00:00
Logo and identity
Built around a teal and dark grey colour set, the Communico identity makes use of its logo in supersize form in applications such as exhibition stands and workspace signage. A set of marketing and application icons was created to publicise and signpost the company's module offering.
Our clients
World Sailing Trust
Vern
2021-08-02T13:15:11+01:00
Smiths News
Vern
2021-08-03T09:58:27+01:00
Hatt Health & Movement Clinic
Vern
2020-03-20T08:44:40+00:00
Rock against Cancer
Vern
2021-08-03T10:15:12+01:00
London Tree Officers Association
Vern
2020-03-20T12:06:14+00:00
Parcelforce Worldwide
Vern
2021-08-03T09:53:53+01:00
Pewsey Vale Studio
Vern
2020-03-20T08:50:43+00:00
Universal Studios
Vern
2020-03-20T08:42:01+00:00
London Borough of Camden
Vern
2020-03-20T08:46:13+00:00
Fat Bustards
Vern
2021-10-29T14:11:20+01:00
Share our work for this client